The Art of Marbling
From theOttomans.org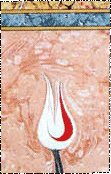 It is not possible to tell exactly when people started painting papers using the techniques of ebru which is one of the most important of paper decorating arts. Although it is possible to find ebru papers in the bindings of centuries old books, these cannot be used to date ebru papers as these books may be restored years after they have been written and ebru papers on their bindings may have been used during a later repair. Only ebru papers with a written date on them can be used as evidence for the age of that ebru paper. Besides the oldest ebru papers dated in this manner are the papers used in Arifi's "Guy-i Cevgan" in the Museum of Topkapi Palace collection which is dated to 1539, two papers in the Library of Istanbul University which were used for two calligraphies of Mir Ali of Herat which are dated to 1539, a paper used for Maliki Deylemi's calligraphies from Ugur Derman's Collection which is dated to 1554 and three papers used in one of the copies of Fuzuli's book, "Hadikat-us sueda" (Garden of Happiness) which are dated to 1595 can be used as evidence for the history of Turkish ebru. The artists who made the first three ebrus are unknown whereas in the opening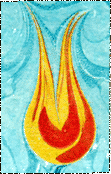 page of Fuzuli's book, after the name of the book, "Hadikat-us sueda" in red ink, "Ma Sebek Mehmet Ebrisi" (with ebru of Sebek Mehmet) is written.Three ebru papers with pale colours are used inside the book and on the last page the date is given as "1004" (1595 ).From the sentence on the first page, we learn that the name of the marbler who has been mentioned as "Sebek" in the booklet "Tertib-i Risale-i Ebri" is Mehmet and the papers used in this book are made by this marbler. The last page indicates the date that the book has been written.
We don't have the chance of identifying all of our marblers by name since ebru papers haven't been signed during our history of ebru. The following are the marblers who made important contribution to our ebru tradition as mentioned previously.
SEBEK MEHMET EFENDI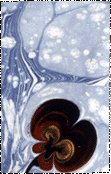 No information other than the given above is available for Sebek Mehmet Efendi. His death must be before the publication of "Tertib-i Risale-i Ebri", 1608 since it is said "rahimehullah" (May God bless his soul) for him in this booklet. It is understood from the words "Nusha-i Sebek" (booklet of Sebek) in the "Tertib-i Risale-i Ebri" that he has an unknown booklet.

HATIP MEHMET EFENDI
He is from Istanbul. He is known as "hatip" (preacher) because he was the preacher of Ayasofya Mosque. The date of his birth is unknown. Because he is mentioned as "pir-i mubarek" (holly old master) in the "Tuhfe-i Hattatin", he must have been quite old when he died in April 1773. He has learnt "tuluth-nesh" calligraphy from Zuhdi Ismail Aga. Because he is the inventor of ebru figures created by dropping concentric dyes and reshaping them with a needle, ebru papers containing such figures are called "hatip ebrusu". His ebru papers which were identified by their distinctive colours and hatip patterns have been extremely popular and avidly collected during his lifetime. He died in the fire which destroyed his home in Hocapasa district of Istanbul.
SEYH SADIK EFENDI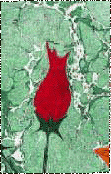 There is not much information about the life of Sheikh Sadik Efendi who was born in the city of Vabakne in Bukhara. He was the sheikh of the Ozbekler Tekkesi (Uzbekh Dervish Convent) in Sultantepesi, Uskudar. We know that he learnt the art of ebru when he was in Bukhara and he taught it to his two sons Edhem and Salih. It is read from his tombstone in the Dergah that he died on the 11th of July 1846.

HEZARFEN EDHEM EFENDI
Ibrahim Edhem Efendi who was the Sheikh of Uskudar Ozbekler Tekkesi is considered as the most distinguished marbler of the last century. He was the grandfather of Turkey's ex-ambassador to Washington, Munir Ertegun (1882-1944). He was born in the Ozbekler Tekkesi in 1829. He has been educated by his father Sadik Efendi, his uncle and the scholars from Bukhara visiting the Tekke. He was proficient in Turkish, Arabic, Persian and Cagatai. He learnt ta'lik script from Carsambalı Arif Bey at a quite an old age. He was a carpenter, metal caster, weaver, printer, architect, scientist and a mathematician. He was appointed as the first principal to Sultanahmet School of Crafts in 1869 and it was here that the first lead pipes were cast in Turkey. Producing ebru papers was one of his many talents which made him famous as Hezarfen (owner of a thousand crafts). Besides Aziz Efendi and Sami Efendi, the most distinguished of his students is Necmeddin Okyay.He died on the 8th of January 1904 and buried in the cemetery of the Tekke.
NECMEDDIN OKYAY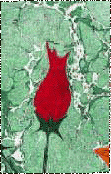 He was born on the 29th of January 1885 in Uskudar. He was the master marbler of the twentieth century. Necmeddin Okyay was educated in theology but he is best known as a calligrapher and marbler. Besides calligraphy and marbling, he was a master of ink-making, traditional bookbinding, rose-growing, archery etc. He learnt ebru from Hezarfen Edhem Efendi. He taught calligraphy at Medresetu'l Hattatin (School of Calligraphy) and traditional bookbinding and ebru at the Academy of Fine Arts. He taught ebru to his sons Sami (1910-12 June 1933) and Sacid (1915-19 April 1999) Okyay and to his nephew Mustafa Duzgunman (1920-12 September 1990) .Before Necmeddin Okyay, we had very primitive flower ebrus. He started a new style in our ebru history by creating flower designs which are admired by the marblers of the world. He is also the inventor of calligraphy with marbling. At the beginning he used to prepare stencils of calligraphies, glue them on the paper to be marbled using gum Arabic which is a very weak adeshive and remove the stencil after the paper has been marbled. Later he noticed that the parts of the paper which has gum Arabic resist the dyes and he started to write with gum Arabic instead of ink. The most famous of calligraphies produced by Necmeddin Okyay as described is the "Lafza-i Celal" ( name of God ).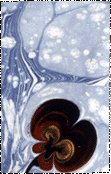 SAMI OKYAY
He was the second son of Necmeddin Okyay. He was born in Uskudar in 1910. He learnt ebru from his father and made unbelievably beautiful and technically difficult ebrus during his very short life. Besides ebru, he was a very talented illumination, engraving, lacquer and traditional bookbinding artist.

SACID OKYAY
He was the third and youngest son of Necmeddin Okyay. He was born in Uskudar in 1915. He taught traditional bookbinding and ebru at the Academy of Fine Arts from 1936 to 1973 until he retired.He died on the 19th of April 1999 and buried at the Karacaahmet Cemetery, next to his father.